Ok guys, i've been working on the inventory window, trying to clean it up and have made a few changes that Iwant to run buy you guys.
Ok Inventory main window changes include:
1) Moved Name, Level, Class, Diety to above the class Animation.
2) Added MANA and Endurance; Max, Current
3) Added Divider bars in different spots to seperate Like / important Stats.
4) Moved the Ebon and Radiant crystals along with the relaim button to the Alt Currencey page. Allowing more room to clean up stats.
5) Modified XP & AA Vitality bars, placement, and added labels.
Alt Currency window Changes:
1) Adjusted the size of the listbox
2) Added Ebon, Radient and their reclaim button
3) Moved Krono & Krono button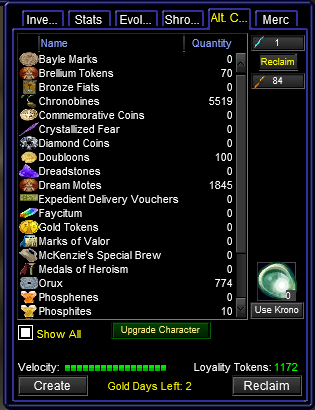 Let me know what you guys think please.